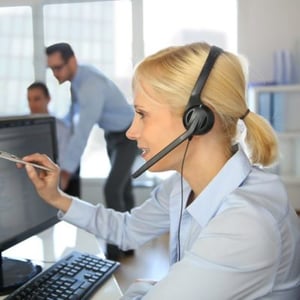 Every business should place customer satisfaction at the top of its priority list. And if you ask most business owners, they'll tell you how important the customer is to their success. Yet, considerably fewer will actually go beyond paying lip service to their customer support department. After all, it's much easier to simply say you're committed to customer satisfaction than to actually back that claim up with action. At Votacall though, we really do believe in the value of customer service. That's why our Hosted VoIP systems come equipped with applications to help you interact with your base better. Here are four VoIP tools your team can start using to that end today:
Call Accounting/Recording
You can consider call accounting/recording to be the ultimate Hosted VoIP analytics feature. With the call accounting integration, business owners can view every important metric related to their over-the-phone interactions, including (but not limited to):
Call length

Employee performance records

Call quality

Marketing & Sales ROI

Call infrastructure accuracy
Plus, call recording with Hosted VoIP allows team members to review important phone calls in their entirety. Armed with this much knowledge, business owners can adjust and alter their current system to eliminate any redundancies and optimize their training methods to prepare recruits for real-life customer-interaction scenarios.
Cloud-Based Auto Attendant
Not able to reach the phone? Don't worry. Our V-IVR Auto Attendant has no problem interacting with a customer and redirecting them to the employee they want to reach. This feature is easy to set up and comes with voice-recognition technology. In short, you won't have to worry about dropping calls or forcing customers to wait on hold while one of your team members tries to redirect them. With Auto Attendant, you can rest easy.
ChitChat
One of our newest integrations, ChitChat, boasts a number of customer-service capabilities. In essence, ChitChat provides each of your company's employees with a personal speech assistant (Sandy) that enables team members to contact coworkers and clients quickly and efficiently. What's more, this new feature makes working on the go or from remote locations even easier. So businesses that want to expand –– but maintain high levels of customer-satisfaction at the same time –– will certainly want to take a closer look at this new VoIP addition.
Voicemail-to-Email Security
Salespeople can't afford to play the waiting game. When an interested client calls your business –– they want to speak with someone right away. Voicemail-to-email security is a safety net that prevents missed calls –– and missed opportunities –– for your sales team. By linking professional voicemail to personal emails or phone numbers, your staff can always receive notifications when an important call comes in.
Final Thoughts
At Votacall, we recognize how crucial customer service can be to closing deals and retention. That's why our products are designed with customer service in mind. We don't stop there, though. When you partner with us, you can expect the highest quality service and round-the-clock technical support.
Contact us today
to see for yourself or else download our free eBook here. We're dedicated to helping you find the perfect VoIP vendor for your situation!