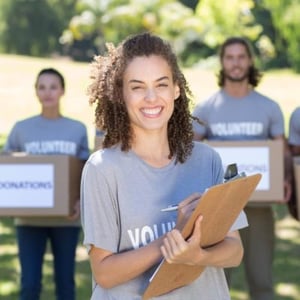 Nonprofit organizations provide a bevy of vital services that we as a society need, from rehabilitating blighted areas to increasing cultural awareness. As such, people who work at nonprofits are more concerned with their vocation than collecting a paycheck. However, even organizations that don't place emphasis on a healthy bottom line need to have a high level or organization and connectivity. That's why VoIP for nonprofits is a perfect fit. Here are five benefits your operation will receive when you pull the plug on your landline and switch over to a Hosted VoIP system:
Improved External Communications
Many nonprofits need to solicit donations from patrons to stay viable; still others interact with professionals in their field on a regular basis. With that in mind, it's easy to see why nonprofit organizations need to have the most reliable phone system in place. With a Hosted VoIP system you'll never have to worry about missing out on an important voicemail ever again –– nor will your phones go down during severe weather or power outages. When it comes to reliability, nothing else can match Hosted VoIP
Tighten Internal Connectivity
Coordinating the efforts of multiple branches across the nation can prove difficult for even the most efficiently run companies. That's why a PBX system or Hosted VoIP for nonprofits makes so much sense. With an advanced phone system you can stay in touch with team members across the country with ease and more effectively manage your staff who work remotely.
Going the Extra Mile
Nonprofit employees work hard because they care about their job in ways most employees never will. VoIP systems can help them follow their passion anywhere they go. If you've got a working cell phone or a laptop, you can access everything you need to get the job done thanks to a Hosted VoIP system –– no matter where in the world you are.
Improved Local Visibility
National nonprofit organizations can apply for local phone numbers unique to each branch. This way, you can increase your presence within individual communities –– and avoid confusing or off-putting area codes in your ads or posts.
Cost-Effective Plans
In addition to all of the above benefits Hosted VoIP for nonprofit organizations provides, switching over from your traditional landline system could actually save you money as well. With Hosted VoIP, you can upgrade your tech and bolster productivity without dipping into your vital funding. Rather, you can allocate those finances where they're most needed.
Conclusion
Any entity –– whether it strives for profits or not –– can benefit from the increased connectivity and unmatched reliability Hosted VoIP systems offer. Simply put, any organization that forgoes this vital service is creating unnecessary problems for itself. Contact the Votacall team and get started upgrading today! Plus, for more information on the true scale of how impactful switching over to Hosted VoIP can be for your business, download our free eBook here: