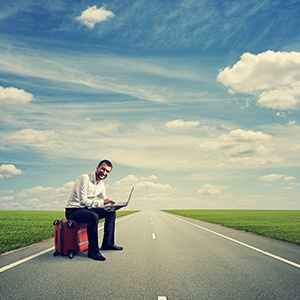 According to research by GlobalWorkplaceAnalytics.com, remote workers and distributed teams are no longer the exception for businesses - they're the new norm. For example:

50% of US employees work remotely at least part of the time, while 25% work remotely more frequently.


9 in 10 workers admit that they'd prefer working remotely at least part of the time.

Many Fortune 1000 companies are re-designing their office space to accommodate the fact that most employees are not at their desk more than half of the time.

However, while the rise of the "distributed worker" is good news for employees who find it more efficient and productive to be liberated from their workstation, it's proving to be a challenge for employers when it comes to keeping everyone connected. And that's where a hosted VoIP solution fills the gap.

Below, we highlight 5 key ways that remote employees can utilize hosted VoIP to stay in touch with each other, with customers, and with all other internal and external stakeholders – anytime, and from anywhere:
How Remote Employees Stay In Touch with Hosted VoIP Phones
1. Call Routing
A hosted VoIP system allows remote workers to have all calls automatically routed to any phone or device, including their cell phone, landline phone, smartphone, or even their PC. So whether they're in the office, out on the road or standing in line at Starbucks, they'll always be within easy reach.
2. One-Number Service
Remote employees typically have several phone numbers, including an office number, cell phone number, home office number, etc. A hosted VoIP system consolidates everything by providing remote employees with a single phone number that they can give out to all customers and contacts.
3. Voicemail Attachments
A hosted VoIP phone system can automatically send voicemail messages as email attachments. As such, remote employees don't have to waste time calling into the office to see who called – or worse, miss an important, time sensitive call.
4. Voicemail-to-Text
Remote employees are often on-site with customers so checking voicemail (even as an attachment) isn't always an option. A hosted VoIP phone system can automatically send voicemails as a SMS, which can be scanned in seconds while "on the go".
5. Distinct VoIP Extensions
Remote employees can be assigned distinct VoIP extensions so they can be easily and quickly reached by any other employee or receive a transferred phone calls. For example, a company with a head office in Boston can directly call or transfer a call to a remote employee in San Francisco – and there are no long distance costs.
The Bottom Line
Not only is the number of remote employees skyrocketing, but research by Dell and Intel suggests that remote employees are often viewed as more productive than their in-house counterparts. Both of these trends affirm the fact that connecting distributed teams – whether separated by county lines, state lines, or international boundaries – is a core priority for businesses of all sizes; especially smaller organizations that care more about what employees contribute vs. from where they contribute.
To learn more about connecting your remote employees through a leading edge, cost-effective and seamlessly scalable hosted VoIP solution, contact the Hosted VoIP experts at Votacall today and schedule your free consultation.