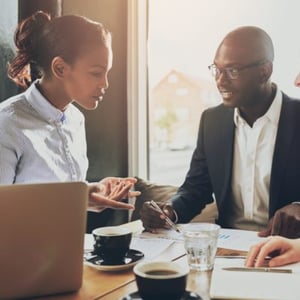 While no two small businesses are exactly alike, many nevertheless share common goals and challenges. Indeed companies across industries often have more in common than they might first imagine. Perhaps that explains why small businesses of all kinds are switching to a Hosted VoIP system to satisfy their communications needs. After all, what company –– small or otherwise –– would stick with an inferior landline option when such a superior alternative exists? If you're not convinced about how VoIP upgrades will help your team though, make sure to check out these five reasons that prove Hosted VoIP is the ultimate small business phone system:
Scalability
Ambitious business owners are always planning their next move. Fortunately, Hosted VoIP tech makes it easy for entrepreneurs to think big when it comes to expansion and growth. Rather than limiting your company's potential, Hosted VoIP systems are the most scalable on the market, and will actively help your business integrate new locations and connect to branches in other states.
Remote Connectivity
Whether your team needs to get in touch with another office location or an employee working from home, Hosted VoIP tech makes it easy to ensure seamless internal connectivity. No matter where your employees are situated, they can access vital data and stay connected with the rest of your staff with ease through VoIP features on their phone or laptop.
Reliability
VoIP systems are the zenith in business-phone dependability. With VoIP, business owners can finally put their tech issues to bed. Not only do VoIP phones offer unmatched sound quality, but VoIP innovations like voicemail-to-email security guarantee your team members will never miss an important phone call again. Plus, small businesses get access to round-the-clock IT support with a VoIP system –– which means they don't have to hire additional staff or sweat extra costs!
Cost-Savings
Hosted VoIP systems are technologically more advanced than landlines. Yet, despite the many advantages they offer over landline systems, switching to VoIP is actually a cost-effective solution for small businesses. By signing on with a Hosted VoIP provider, small business owners can eliminate irksome fees on their phone bill while also benefiting from a myriad of VoIP solutions.
Customer Satisfaction
For all of the reasons we've detailed above, a Hosted VoIP system will enable your employees to improve the way they interact with customers over the phone. With Hosted VoIP you can streamline waiting times, cut down on missed messages, and, in brief, provide your staff with all the tools they need to address the questions and concerns your customers may have. Plain and simple, if your small business depends on phone interactions going smoothly, you can't afford to go without VoIP technology.
Final Thoughts
Small businesses –– regardless of their field –– shouldn't have to deal with communications issues now. It's 2018 for goodness' sake! Thankfully, even if your small business is stuck in the dark ages with an outdated phone system, you can update to Hosted VoIP in a flash. Contact the Votacall team today to discover how quick and easy it is to implement VoIP tech at your workspace. Plus, for an in-depth look at what Hosted VoIP systems are capable of –– and how to separate VoIP fact from myth –– check out our free eBook here: