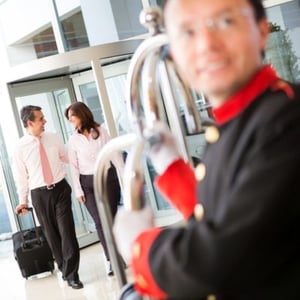 When it comes to making travel arrangements, no one wants to have to deal with unexpected complications. Indeed, few things can sink a hotel's reputation faster than making a mistake with a reservation. And given the fact that in today's digital world, anyone can voice their displeasure online at a moment's notice, hotels can't afford to make logistical mistakes. It's perhaps no wonder then that hotel employees often face a high level of scrutiny from both their bosses and their guests. Fortunately, hotel owners can work to make their employees' jobs a great deal easier by implementing a VoIP system at their hotels or travel resorts. Here are five ways installing VoIP for hotels will assist your employees and improve the way you run your operation:
Easy Internal Communication
Never again will your employees struggle to get in contact with each other. So whether you need to reach the front desk from a remote location –– or from within the hotel itself –– you can rest assured that you'll be able to make a connection quickly. In this way, your employees can stay synchronized in their efforts and react to any requests your guests might have.
Remote Connectivity
Need to get in touch with one of your locations in another city or state? With VoIP phones you'll be able to reach whoever you need to –– no matter where you currently are. Remote connectivity puts you back in the office, even if you're a thousand miles away. Plus, your employees will enjoy that same advantage as well and can make adjustments on-the-fly if need be.
Crystal Clear Sound Quality
In the hotel and tourism industry, it's vital to build a solid rapport with every guest you encounter. That begins with the moment a guest calls your operation, and often, how that first interaction goes can determine the entire mood of their trip. As such, you can't afford to gamble with a landline system if you're looking for top-notch sound quality. Rather, the only way to guarantee your employees and guests start off on the same page is by installing a VoIP phone system. With VoIP, you'll get the benefits of unmatched sound quality and total reliability –– even during power outages and severe weather.
Better Business Practices/ Employee Training
Advanced VoIP technology allows for business owners to integrate their phone system with their CRM. In this way, hotel managers can easily view key metrics and statistics over an extended period of time and guide their employees toward better performance as a result. Furthermore, VoIP call recordings provide a fantastic opportunity for hotel staff to review and perfect their over-the-phone interactions.
Cost Savings
In addition to the myriad of benefits a VoIP system offers hotels, business owners love VoIP because it provides cost-effective solutions. You read that right –– you can enjoy all the advantages of an advanced phone system while saving money at the same time. And with these extra funds hotel owners can repurpose that capital toward equipping their employees with the best amenities and tools possible. Consider this a win-win situation! Sticking with an overpriced landline system just plain doesn't make sense given all the capabilities VoIP phones bring to the table.
Final Thoughts
By switching to a VoIP phone system, hotels can improve their internal and external communications processes, better train their employees, and save money at the same time. So why waste another penny on a landline that can't offer the same reliability? Instead, contact the Votacall team today to get started with your upgrade today. Plus, for more information on how to find the right VoIP carrier for your situation, download our free eBook here: