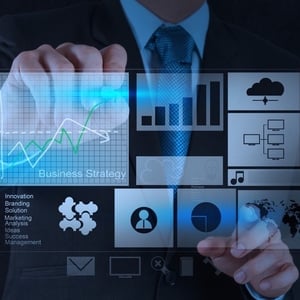 It's that time of year again. It's getting colder, storms are coming, and we're hard at work making sure our clients are prepared to keep things running smoothly if they face any unexpected downtime. A big part of that is making sure that they've included business communications in their business continuity and disaster recovery plans.
Business continuity vs. disaster recovery – what's the actual difference? These terms are usually used interchangeably, which makes perfect sense. When you're experiencing unexpected downtime, it doesn't make sense to spend time learning terminology. All that matters is that you get back up and running, right?
Well, kind of. Truthfully, if my business were down, I probably wouldn't be splitting hairs either. But the reality is, you should be planning for downtime well before it happens, because the cost of not doing so could lead to irreparable damage for your business.


So What's The Difference?
When you're thinking about business continuity vs. disaster recovery, the easiest way to remember the difference is that one is part of the other.
According to this article by CIO.com, disaster recovery focuses on restoring your key technology infrastructure (network, phones etc.) while business continuity refers to the big picture – figuring out how your key departments (sales, support, HR) will continue to operate in the face of an unexpected outage.
Ultimately, the efficacy of your business continuity plan will depend heavily on how ironed-out your disaster recovery plan is. Regardless of job function, nobody can get much done these days without network access or the ability to communicate.


How Does VoIP Help With My Disaster Recovery Plan?
Regardless of the size of your business, hosted VoIP goes a long way towards helping you establish your disaster recovery plan. By moving business communications to the cloud, you give yourself a built-in failover plan because the infrastructure that receives and routes your calls isn't at your physical location, so it's not impacted by the conditions your business is facing.
If there's a storm in your area that's keeping you from going to the office, your calls can be routed to your home office or cell phone at the push of a button. And unlike call forwarding, you're answering at your desk number, so your customers won't even know you're not in the office.
VoIP is especially useful when your business loses power unexpectedly. Cloud-based systems can recognize when your power goes out, so they automatically know to route calls to your preferred endpoint whether that's another location, your home office, or your cell phone. When you use a traditional landline, unexpected downtime can have drastic implications for your business – with hosted VoIP, it's just another day at work.


What Does That Mean For Business Continuity?
While there are many aspects to a solid business continuity plan, usually the most crucial parts establish processes for how your company will stay in touch with customers – both existing and potential.
No matter what business you're in, staying in touch with potential customers is always a top priority. Whether you have a sales team that relies on the phone system to do business, or just need the ability to field calls from potential customers when they come in, hosted VoIP helps your business continue to run by keeping your business numbers active and reachable during outages.
Customer support teams are another example of an essential business function that should have a continuity plan in place. Offering a superior support experience can go a long way toward differentiating your business from competitors – part of creating that experience is making sure that regardless of what's impacting your business, you can still access call queues and address customer needs. VoIP systems are also able to notify call center administrators about outages via email, so they can alert their teams and be ready for them.
The ability to keep the customer-facing functions of your business running smoothly during downtime can be a huge differentiator, whether you're a large enterprise or a small business.


To Wrap-Up
We hope this post cleared up the key differences of business continuity vs. disaster recovery! From a communications standpoint, creating a disaster recovery plan that's based on leveraging the cloud to keep your business up and running creates tangible results (not to mention peace of mind) on the business continuity front.
Contact the Votacall team today and we'll provide you with disaster recovery and business continuity solutions that can work for your business! Not sure what separates one VoIP provider from another? Then check out our free eBook to help you make the best choice possible for your company: