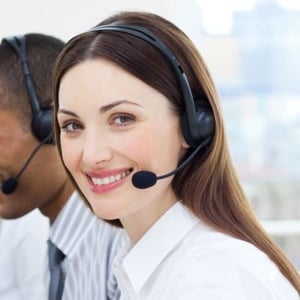 Over the past twenty or so years, it's become common practice for Major-League baseball players to review every plate appearance they make on video. No matter the result –– a strike out, home run, or anything in between –– the finest athletes on the planet examine everything about their swing as often as they can. Entrepreneurs can learn a lot from this practice. After all, the only way to get better is to study and apply hard-earned lessons toward future performance. Fortunately, you can improve the way your sales team operates with VoIP phone technology. Here are three ways VoIP can help fine-tune your sales-call scripts:
Call Recording History
With Hosted VoIP technology, managers and sales professionals can access the recordings from every sales call they've made in the past. This way, your team can identify exactly what works –– and what doesn't work –– within a particular sales technique. Furthermore, managers can review patterns and trends in sales call performance when you integrate VoIP with a CRM like Salesforce. Thus, executives can track different sales strategies' effectiveness over long periods of time. Perhaps your latest revision to your script hasn't quite had the impact you desired; or alternatively, maybe the data helps you uncover an opportunity to explore new possibilities. With VoIP, you'll have the information you need to make informed decisions.
VoIP-CRM Integration
To further a few points made above, the key advantage VoIP affords businesses is that of clarity. With a VoIP-CRM integration your sales team can enjoy greater success because they'll be equipped with more intel. After all, the more information you have about your customers –– who they are, what they do, and what they value about your product or service –– the better you can craft personalized scripts to fit their needs. Additionally, by studying VoIP analytics, you may even be able to identify niche markets that you can explore to your benefit!
Improved Internal Communications and Processes
Anyone who's ever worked at a large corporation understands the value of seamless connectivity. Far too often employees aren't able to collaborate with one another because of spatial distances and remote locations. Thankfully, VoIP phones can connect branches and traveling employees back to HQ quickly and easily. Because of this innovation, sales pros can work together to find more effective solutions to script issues. If you want to promote collaboration at your business, but struggle incorporating employees who work remotely –– then a VoIP system can provide you with just the solution you need.
The Bottom Line
The only way your external communications with your customers will improve is if you first perfect your internal methods. Whether you're looking to fine-tune your scripts, boost your conversion rates, or better apportion resources throughout your company, a Hosted VoIP system can help you achieve your goals. Contact the Votacall team today and install the tech upgrade that will make a big impact for your sales department! Want to switch to VoIP but aren't sure who to partner with? Then download our free eBook and learn how to separate the wheat from the chaff when it comes to VoIP vendors: