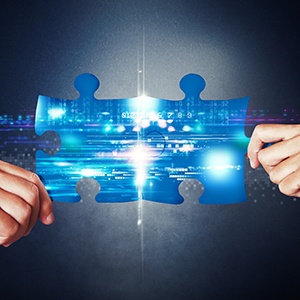 A hosted VoIP phone system offers many advantages and benefits vs. a traditional landline system, including dramatically lower total cost of ownership (TCO), advanced calling features, seamless scalability, total solution control and business continuity backed by multiple levels of redundancy.
However, another important benefit that is NOT available with traditional landline phone systems is full integration with Skype for Business.
Through this integration, businesses can empower their employees to efficiently and effectively collaborate and share information – regardless of where they're located.
Key Features of Skype for Business Integration with VoIP:
Real-Time Availability
Employees can instantly view their colleague's availability status in real-time (based on a combination of user preference, login/activity status, and calendar information) and connect with them via the most appropriate mode of communication. This function dramatically reduces or can even eliminates tedious, wasteful "voicemail tag" and back-and-forth emails.
Web Conferencing
Employees can experience a real-time web conference or meeting, which integrates data, content, applications, video, voice, media and text. It's also possible to enhance any web conference with the Microsoft Round Table web conference camera, along with full duplex video and audio. This is particularly helpful and impressive when holding executive or Board Meetings or providing customer presentations to decision-makers.
Video Meeting
Employees can simply click the "Desktop Share" icon and collaborate with colleagues or customers via web cam. Video meetings can be also be recorded and turned into webinars or archived for future reference.
Instant Messaging
Employees can send and receive instant messages which can be automatically logged to create detailed call records. This function is particularly valuable for ensuring compliance or providing records to third parts per legislation (e.g. e-discovery).
Votacall Hosted VoIP integration with Skype for Business
At Votacall, integrating our acclaimed hosted VoIP system with Microsoft OCS is another layer of our Unified Communications (UC) offer. We cover the capital expense as well as ongoing maintenance/support of the server infrastructure in order to provide our customers with a highly affordable, feature-rich solution that we call the Votacall Hosted OCS.
Learn More
To learn more about how Votacall integrates our Hosted VoIP platform with Skype for Business and how to empower your employees to connect with colleagues and customers in multiple ways – regardless of where they are geographically located – then contact us today.
We'll be pleased to provide you with both an overview of our solution, as well as a demo so that you can directly experience the benefits and advantages.