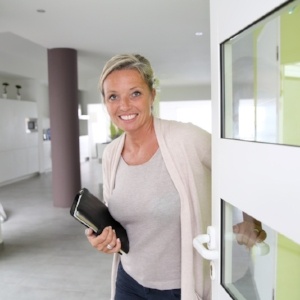 In the ultra-competitive real estate field, the importance of exceptional communication with existing clients, prospective clients, and various referral partners and allied professionals (e.g. mortgage brokers, contractors, movers, etc.) isn't just important: it's the difference between thriving or struggling. And that's where VoIP phone system makes a transformative difference to the bottom-line.
Below, we highlight the key reasons why the most successful real estate agents are moving out of their landline phone system, and moving into an advanced VoIP business phone system:
1. Easily and affordably get local, toll-free and vanity numbers.
The target market for many real estate professionals spans several counties or states, and purchasing multiple numbers isn't cost effective or strategic — since many prospective clients habitually lean towards local partners, and steer clear of those who are based hundreds (or sometimes just dozens) of miles away
With a VoIP business phone system, real estate professionals can easily and affordably get local, toll-free and/or vanity (e.g. "555-SOLD") numbers. As a result, even if they're based in another city or state, real estate professionals can have an impressive and confidence-inspiring "local footprint."
2. Use auto-attendant to make a positive impression.
A VoIP business phone system features a powerful, yet easy-to-use auto-attendant that functions like a virtual receptionist. Callers are professionally greeted on the first ring, and invited to direct their call to a desired party by extension or department (e.g. "home sales").
What's more, the auto-attendant greeting can be easily changed in seconds. For example, real estate professionals who are offering special limited-time promotions (e.g. "free staging") can highlight this in their greeting.
3. Use a mobile app to stay connected anytime, anywhere.
Rapid responsiveness and delivering personalized service are critical for real estate professionals; especially since unlike professionals in other sectors, they need to "seal the deal" before they get paid. In other words, if customers get frustrated anywhere along the buyer's journey, they may exit the relationship and leave their real estate professional to foot 4 or 5-figure bill (comprised of incurred costs plus opportunity costs).
With a VoIP business phone system, real estate professionals can use a mobile app to stay connected with current and prospective clients anytime, anywhere — and consistently deliver high levels of responsiveness and client experience. Furthermore, the app will continue to function even in the event of a local power outage.
4. Seamlessly connect remote teams.
In the past, real estate professionals struggled to connect remote teams — and with many phone systems, it was impossible to transfer calls to agents and other team members who worked from home.
A VoIP business phone system completely changes the paradigm. Routing calls to a cell phone, landline or even a computer (via desktop softphone) is fast and easy. And the re-routing is so seamless and fast, that callers have no idea that the agent they're speaking with isn't in the office!
Learn More
To learn more about why successful real estate professionals are choosing a state-of-the-art VoIP business phone system to impress their clients — and surge past their competition — contact the Votacall team today. Your consultation with us is free.
For more information on hosted VoIP phone systems and the truth behind common myths, download our FREE eBook: