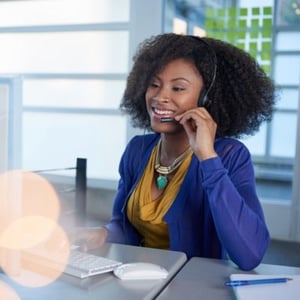 Speed is the name of the game. In this modern business world, how fast you're able to identify, address, and solve problems is often what separates thriving companies from those that merely tread water. This is especially true in regard to customer interactions issues. Indeed, every responsible company should work to ensure that their calls with customers are quick, efficient, and helpful. Fortunately, a Hosted VoIP system can help you achieve this. Here are five ways you can streamline customer service with VoIP:
Cut Down on Redirects and Holding Times
The longer you ask your customers to "kindly wait on hold," the lower your chances of having a positive interaction with them are. After all, no one likes waiting on the line –– especially if they have a time-sensitive issue that needs resolving ASAP. And traditional landline systems often force employees to redirect phone calls and ask customers to stay on hold while they attempt to connect to coworkers or supervisors. Don't mess around with your customers in this way. Instead, with a VoIP system, you can eliminate any internal process inefficiencies and ensure your team members and customers stay on the same page.
Remote Connectivity
Is a customer calling to speak with a team member who's working from home, or else is away on a business trip? No worries! VoIP phones make it easy to connect with coworkers who work remotely. So you'll never have to scramble to get in touch with another employee –– no matter where they are.
Call History and Call Metrics
The most adept companies know how to treat loyal customers. Alternatively, there's nothing worse for a business than alienating or losing long-time or repeat customers. On that note, Hosted VoIP systems are perfect for integrating with your CRM –– so that when a customer calls your business, your representatives can easily access pertinent information relating to their account and call history. With this intel, your team members can better handle customer queries and guarantee top-notch service to your best customers.
Ultra Reliability
A dropped phone call is frustrating. A missed voicemail without reply on the other hand is near infuriating for most customers. If you're not getting back to your customers or clients in a timely fashion, then you'll never build a strong rapport with your consumer base. To this end, VoIP systems come equipped with features like voicemail-to-email advancements to ensure that you never miss an important phone call again.
Local Phone Numbers
Franchises and large companies have multiple locations across the country. As such, if you lack local phone numbers for all of your establishments, your customers will likely experience a great deal of confusion when looking to connect to the store nearest them. VoIP phone systems –– unlike landline competitors –– allow you to customize with local numbers for multiple locales. Thus, your customers and your local branches will always enjoy easy connectivity.
Final Thoughts
Making sure your customer interactions go smoothly is as much about perfecting your internal processes as anything else. Therefore, if you're ready to cut out some common problems associated with customer relations, consider updating and upgrading your phone technology. Contact the Votacall team today and get started improving your communications systems right away! Not certain that VoIP is the best way forward for your business? Let us dispel some of the myths associated with Hosted VoIP in our free eBook and give you the knowledge you need to make an informed decision: