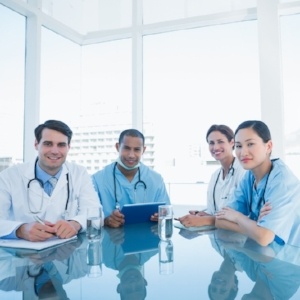 Over the last several years, healthcare organizations of all sizes have upgraded from conventional phone systems to advanced and agile VoIP phone systems. And while each implementation is unique — simply because each organization is different — there are three clear and definitive takeaways that can be cemented at this time regarding the VoIP phone systems in health care:
1. VoIP phone systems enable healthcare organizations to save money.
Today's healthcare organizations are under increasing pressure to reduce expenses — especially in light of new billing requirements — and VoIP phone systems are playing a central role in achieving this critical objective. As noted by Toolbox.com: "Moving phone systems to cloud VoIP helps health care institutions and medical practices save on expensive telecommunications costs, an overhead expense."
2. VoIP phone systems enable healthcare organizations to be more efficient.
In addition to keeping their teams connected on-site, on-the-go and remotely, TechTarget.com highlights that health care organizations are leveraging VoIP phone systems to significantly — and in some cases, dramatically — improve clinical processes and back-end efficiencies, such as sending patients voice-to-text reminders, improving collections by automating monthly calls to delinquent accounts, and so on.
3. VoIP phone systems enable healthcare organizations to improve patient support and care.
Health care organizations are continuously striving to improve patient support and care; especially since rating and ranking information is available online and can influence patients' choice of providers. VoIP phone systems help drive this ongoing patient-centric focus by (for example) connecting patients and providers via video conference.
A Harvard Medical School study published in the American Journal of Managed Care found that while a single visit to the doctor can oblige patients to set aside several hours (commuting time plus waiting time), on average the direct doctor-to-patient interaction only lasts for 20 minutes. What's more, some patients with chronic or painful conditions find visiting the doctor extremely difficult — or even impossible. The video conferencing capabilities of VoIP phone systems bridge this gap in a way that is beneficial to patients, providers and health care organizations alike.
The Bottom Line
In light of the above takeaways, it is easy to understand why a growing number of healthcare organizations are embracing VoIP phone systems to cut costs, increase efficiencies and drive patient support and care.
To learn more about experiencing these advantages and benefits in your environment, contact the Votacall team today. We have in-depth experiencing partnering with healthcare organizations and will customize a solution that fits your needs and budget. What's more, our expert team provides responsive support, including 24/7/365 security monitoring.
Also, be sure to download our FREE eBook debunking the 6 myths of hosted VoIP phone systems: