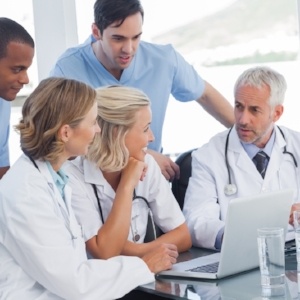 The healthcare landscape is rapidly changing due to a convergence of factors, including greater patient awareness and participation in the healthcare process, difficulties engaging and motivating staff, the impact of public and private ratings and rankings, and the ongoing need to be innovative, efficient and "do more with less." Not surprisingly, a cloud phone system is perfectly suited to help hospitals manage this perfect storm of challenging variables and ensure they remain stable and strong for the long-term future.
While each hospital is unique, here are 3 key reasons why a cloud phone system for any hospital makes bottom-line sense:
VoIP for Hospitals Advantage #1: Significant and Ongoing Cost Savings
As noted by HealthcareDIVE, hospitals are under constant pressure to reduce costs. However, they must to do so in a way which allows them to mitigate or avoid laying off staff, since doing so may temporarily solve one problem while creating an even bigger one: finding and keeping qualified healthcare professionals on the roster.
A cloud phone system enables hospitals to significantly reduce telecommunication costs both initially and on an ongoing basis, since there are no costly lines to rent, long distance bills to pay, maintenance/upgrade costs to cover, or on-site PBX to purchase, configure and support. What's more, a cloud phone system can reduce the need for staff travel, and hence, reduce travel costs, since some meetings can be held virtually via video conferences.
VoIP for Hospitals Advantage #2: Improved Communication
Regardless of whether they're relatively smaller regional hospitals or large urban health networks, the fact remains that hospitals are busy (and sometimes frenetic and frenzied!) hubs of activity, where time is always of the essence, and communication gaps can have dire consequences.
A cloud phone system empowers hospital staff to stay connected wherever they are, on-site or off, and utilize an array of built-in advanced calling features like voicemail-to-text, in order to improve communication efficiency and quality. This is especially valuable when unifying remote and disparate teams, who may rarely (if ever) work side-by-side, but are nevertheless unified by a shared communication system.
VoIP for Hospitals Advantage #3: Records Management & Security
Hospital executives know that improved operational efficiency cannot adversely impact data security protocols and records management compliance; on the contrary, it must enhance and augment these pillars.
A cloud phone system aligns with this fundamental requirement. For example, calls can be recorded for security and auditing. In addition, calls are encrypted from handsets into a secure network, and data is secured in carrier-grade data centers that use robust security controls confirmed by third-party reports.
Learn More
These are just some of the key reasons why VoIP for healthcare has evolved from being a smart and strategic best practice, to what many healthcare communication experts and insiders believe is now a fundamental requirement.
To learn more, contact us today for a complimentary consultation, and be sure to check out our FREE eBook on debunking the 6 myths of hosted VoIP phone systems.