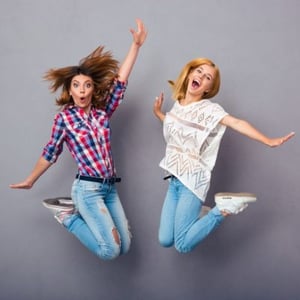 Whether you're just starting out, or you've been in business for decades, chances are you recognize the importance of communication to your company's success. After all, relationships are what matter most in business, and your phone system is still the best way of getting in contact with clients, customers, team members, and leads. As such, progressive entrepreneurs recognize that a phone system should provide a number of communications solutions, from easy access and installation to business integration. This leads us to our question of the day: which phone system is the right fit for your company? We'll break down the VoIP vs Analog system debate, and show you what you'll get (and what you might miss out on!) with each option:
Analog System
When most people think of an old-school phone system, this is probably what springs to mind. Indeed, analog systems still run on copper wire, and connect businesses through a local phone company. An analog system doesn't come with any of the bells and whistles typically associated with modern technology. Heck, it's often referred to in professional vernacular as POTS –– or, "plain, old telephone service." To be blunt: analog systems don't offer much in the way of creative ideas of business innovation.
VoIP Phone System
Unlike an analog system, VoIP systems connect your business's phones through the internet. Not only is this a more sophisticated arrangement, but it also unlocks a myriad of features that analog systems can't offer. In brief, VoIP systems are technologically more advanced, business-ready, and easier to install than their analog counterparts.
Benefits of a VoIP System
Still, some business owners remain skeptical about the efficacy of a VoIP system as opposed to an analog one. It's only reasonable to question how different two phone systems could actually be. Well, to demonstrate the massive value VoIP systems provide to companies across industries, here are seven clear advantages VoIP offers that analog systems can't:
Easy installation process

Remote connectivity between employees

working in multiple locations

Voicemail-to-email security to ensure you never miss an important call again.

CRM integration to access advanced metrics and statistics

Unmatched scalability

Ultra-reliable service. VoIP phones will keep working when traditional landlines go down –– such as during a power outage

High sound quality




You might be thinking that since VoIP systems bring all these extra features to the table, they'd be more expensive than their analog competitors. However, that's not the case either. In truth, VoIP systems are often the most cost-effective phone system option available on the market. That's because calls made through VoIP systems won't rack up long-distance or other usage fees that analog systems build into their billing.
Contact the Pros
As you can now see, the VoIP vs analog decision isn't a difficult one to make. Regardless of what your business specializes in, VoIP phones can improve your connectivity and productivity –– while lowering costs at the same time. Contact the Votacall team today to learn how you can hit the ground running with a VoIP system at your business. Plus, make sure to check out our free eBook below. Choosing to switch to VoIP is a great decision, but doing so with the right vendor is essential if you want to get the best results possible.