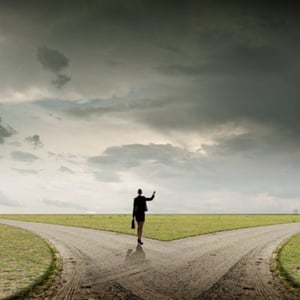 Business owners are constantly asked to make important decisions for their team. Unfortunately, most professionals these days don't have time to breathe –– let alone hours to spend researching products and services online. The good news is, when it comes to phone technology, you won't have dig very deep into the VoIP vs landline debate to get the intel you need to make the right call for your company. Here are six questions that will help you determine which phone system will work best for you. You'll quickly see what we've known for years: landline phones can't hold a candle to VoIP.
Do Your Employees Work Remotely?
Most employers allow team members to work from remote locations. Some businesses integrate working-from-home into their regular schedule. Others ask employees to work while on the road. And still other companies simply have multiple branches that require remote connectivity. The point is, if your employees work outside of the office –– then you need a VoIP system to support their efforts. VoIP technology enables remote employees to access key information and files from anywhere. What's more, VoIP systems are created to guarantee easy connections between remote coworkers. Landline systems don't offer those same advantages.
Do You Ask Your Employees to Collaborate?
No workspace will function at maximum efficiency if your team members don't talk to each other. VoIP systems, unlike landlines, provide employees with a simple means to get in touch with coworkers at other locations. Plus, VoIP helps employees streamline internal communications; this way, your staff can spend less time worrying about logistical issues, and more time addressing meaningful problems.
Do You Interact with Clients Over the Phone?
No matter what your business does, odds are you converse with clients on the phone. Whether you rely on phone calls to close sales, or your customer service team regularly communicates via the phone, only VoIP phones provide businesses with the stability and sound quality necessary to maintain sound relations with your customer base. Plus, VoIP systems ensure you never miss an important phone call again; thanks to voicemail-to-email security, you'll instantly know if you've got a call waiting for you. With VoIP, it's easy to put your customers first.
Does Your Business Use a CRM?
VoIP systems are a breeze to integrate with existing CRMs like Salesforce. By implementing VoIP alongside your CRM, you can help your sales team access vital information before, during, and after calls with customers. Landlines simply don't boast the technological flexibility that VoIP does.
Does Your Business Value Reliability?
No company can afford to deal with habitual tech failures in today's business climate. Fortunately, VoIP systems will remain operational when landlines go out –– like during severe weather or power outages. And, if you ever do experience trouble with your VoIP connection, you'll receive 24/7 round-the-clock support from a team of VoIP professionals –– for no added cost.
Do You Want to Save Money?
It would stand to reason that upgrading your phone tech from landline to VoIP would cost your company a pretty penny. Considering all of the high-tech features and scalability VoIP brings to the table, landline systems must surely be more cost-effective. Well, they're not. VoIP phones in actuality offer companies substantial cost-savings opportunities that landlines can't match. At the end of the day, VoIP is superior to landlines in every way.
Contact the Pros
If you answered yes to just one of the above questions then it's time to install VoIP for your workspace. Contact the Votacall team today and enjoy all the advantages VoIP supplies. Ready to move forward with VoIP, but aren't sure which vendor to partner with? No worries! Just download our free eBook here and you'll have all the info you need to make the best choice for your business: