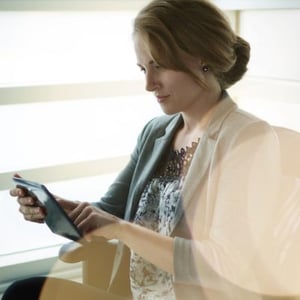 When a small business owner first thinks about expanding their operation, it's unlikely many will consider how their phone system will help them do so. After all, there are so many elements related to company growth including hiring new staff, exploring new markets, investing in new technology, etc. that it's easy to see why an ambitious entrepreneur might overlook their communications system. Yet, many small businesses across the country use Hosted VoIP technology to facilitate their expansion. And in fact, Hosted VoIP tech is an essential tool to improve business scalability. Don't believe us? Then here are five reasons why a VoIP phone system will ensure your expansion goes smoothly:
Remote Connectivity
In simple terms, a business expansion almost always means opening a new office or branch in another city. With that in mind, VoIP tech can help connect your employees operating in remote locations. With VoIP your team members can stay in contact with each other, transfer data and files with ease, and work while on the go thanks to features like the VoIP app.
Data Collection Integrations
As mentioned above, companies looking to grow will undoubtedly seek out new clients. Though you may not have had trouble keeping tabs on your consumer base before, doubling your customer pool can present some severe logistical dilemmas for budding companies. Fortunately, VoIP systems integrate perfectly with CRMs like Salesforce –– which means that your sales and marketing teams will have instant access to pertinent customer files and data.
Automated Redirection
Imagine it now: the phones literally ringing off the hook at your office. As exciting as that prospect may be for ambitious entrepreneurs, dealing with it in reality can prove a true nightmare –– without a Hosted VoIP system, at least. With it, though, your team will be able to manage a greater call volume thanks to automated features that redirect clients accurately and quickly. Both your staff and your customer base will appreciate the improved efficiency VoIP provides.
Quick and Easy Installation
Though some tech upgrades require weeks or months to fully implement, VoIP phones and software are a breeze to set up. In most instances, your team members will be able to plug and play almost instantly when you open a new location. What's more, if you ever do experience any technical issues, know that you'll receive 24/7 support from a team of VoIP experts.
Cost Savings
Last but not least, VoIP technology is extremely cost-effective. Rather than shelling out more money on an inferior system, savvy small business owners are choosing VoIP and scaling with ease.
Final Thoughts
VoIP tech was designed with flexibility in mind. That's why handling the travails associated with expansion are so much easier with a Hosted VoIP system on board. Contact the Votacall team today to find the perfect phone system for your business's needs. Plus, to get an in-depth look at how to separate VoIP fact from VoIP fiction, check out our free eBook here: