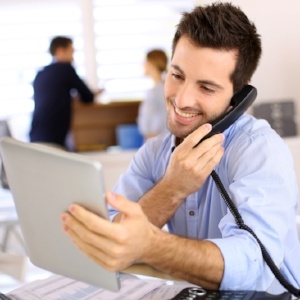 One of the most common — and also among the most important — questions that our customers ask is: "is it difficult and complex to switch from a landline to a hosted VoIP phone system?" The answer to this is simple: no! On the contrary, it is refreshingly simple and straightforward. While each business is unique, generally speaking here are the easy steps involved:
1. Choose Your VoIP Solutions Provider
It's wise — and frankly, necessary — to choose your VoIP Solutions Provider early in the process, since they will efficiently and effectively guide you forward. To that end, ensure that your chosen provider is experienced, reputable, and has the in-house capacity to provide you with support before and after implementation. Do not hesitate to ask for testimonials and/or to speak directly and privately with a prospective provider's customers
2. Assess Your Needs and Goals
Your VoIP Solutions Provider will work closely with your leadership team to identify your key needs. For example, you may want to make collaboration more effective among distributed/remote workers, or perhaps you want to increase NPS and overall customer service ratings. Taking an inventory of your challenges and goals will help you choose the system and configuration that achieves both, and also fits your budget.
3. Assess Your Capacity
One of the key, defining advantages of a hosted VoIP phone system is that you do not need to create and maintain a separate — and costly — telecommunications network: everything runs off your existing data network (which is typically being used to power your internet/web/email access). However, you will likely need to boost your capacity so that you have sufficient bandwidth and speed to accommodate your needs (e.g. video calls, multiple users accessing the system at the same time, etc.). If upgrades are required, they are easy and affordable.
4. Order Desired or Necessary Hardware
A hosted VoIP phone system can be accessed through multiple devices, such as computers (i.e. "softphone"), smartphones, or even conventional landline phones (after installing an analog-to-digital adapter). However, you will likely want to purchase additional hardware to optimize your system. Specifically, this will probably include a managed router so that your VoIP Solutions Provider can monitor and configure the system remotely, and certified IP handsets for your workforce. Both of these (managed router and IP handsets) are affordable, and they only need to be purchased once; not on an ongoing basis.
5. Port Numbers
When it comes time to install the new VoIP phone system, your VoIP Solutions Provider will port your existing phone numbers (unless for any reason you wish to have new phone numbers). Again, as noted above your choice of VoIP Solutions Provider is critical here, because some inexperienced or incompetent firms are notorious for "dropping the ball" when it comes to porting your numbers — which means that your customers and other callers cannot reach you until this is fixed! Choosing an experienced and reputable firm will ensure that this nightmare does not happen to you.
6. Testing and Optimization
Once the switch-over is complete, your VoIP Solutions Provider will conduct a series of comprehensive tests to optimize quality, speed and reliability standards. While this is a highly technical process, be assured that you will not have to take a crash course in telecommunications! Your provider will handle everything, and give you reports that confirm optimal system performance.
7. Training and Launch
Last but not least, your VoIP Solutions Provider will provide your team with training, so they can hit-the-ground-running and start using the new, more powerful and versatile phone system from day one. Depending on your needs and preferences, your provider may also train "super users" on your team, who will serve as an on-site knowledge resource going forward (and who of course will be supported by your provider).
Learn More
To learn more about how easy and affordable it is to upgrade from a conventional landline phone system to an advanced, feature-rich and cost-effective hosted VoIP phone system, contact the Votacall team today. Our experience is your advantage!
For more information on how to choose the right partner for your hosted VoIP phone system, download our FREE eBook: