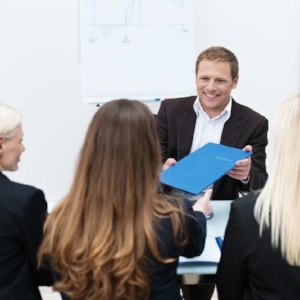 A core element that separates recruiting firms that thrive from those that struggle is the ability to connect with clients and candidates: and what's where hosted VoIP enters the picture and makes a transformative difference.
Below, we highlight 5 ways that hosted VoIP helps recruiting firms connect with clients and candidates, ultimately so they can fill job orders, generate profits, enhance their competitive advantage and reputation, and take their organization to the next level:
1. Expand Reach & Enhance Image
With hosted VoIP, recruiting firms can affordably register local numbers across the state or country — or just as easily add toll-free numbers — to expand their reach and enhance their image. This is a significant advantage, since many clients and candidates are more comfortable — or sometimes insist on — dealing with a local recruiting firm vs. one that is has its offices hundreds or thousands of miles away. At the same time, a hosted VoIP's auto-attendant is an excellent way for small recruiting firms to "look big" by professionally greeting callers, and allowing them to self-select the department or person they want to reach.
2. Use Web Conferencing to Interview & Stay in Touch
Hosted VoIP features built-in high-definition web conferencing, which recruiting firms can use to cost-effectively interview candidates, as well as stay in touch with clients. It's all of the benefits of face-to-face interaction, but in a much more convenient way at a fraction of the cost.
3. Direct Numbers to Reach Staff
In the recruiting space, building personal relationships with clients and candidates is critical. Hosted VoIP enables recruiting firms to give any or every staff member — regardless of whether they are located — their own unique phone number or system extension.
4. Expand the Workforce
A great deal of recruiting work can be done remotely, and many firms are partially or even wholly virtual — i.e. they are comprised of geographically distributed team members who work out of home offices or remote locations, where office space and overhead costs are much cheaper. A hosted VoIP system brings everyone together on a centralized, unified platform regardless of where they are. At-a-glance, team members can see each logged-in user's status, send/receive instant messages, and more. They can also use the system via a smartphone app, but when they call out the recruiting firm's number — and not their personal smartphone number — shows up on caller ID.
5. Call Recording
Recording calls for training, compliance and project management purposes is key in the recruiting space. For example, after interviewing a potential candidate, internal decision-makers may want to compare calls between potential candidates to help determine the best fit. With hosted VoIP, recording calls (including web conferences) is fast, easy, and all files can be stored securely in the cloud or downloaded to an on-premise device, drive or other external storage unit.
The Bottom Line
Competition in the recruiting space is fierce and relentless, and the need to stay connected with clients and candidates is more vital than ever. At the same time, recruiting firms of all sizes — from small geographically distributed teams to large enterprise-level organizations — need to control costs, and ensure that technology investments deliver ROI. A hosted VoIP system perfectly fits this framework, which is why a growing number of recruiting firms are saying goodbye to conventional landline systems, and hello to hosted VoIP.
Learn More
To learn more about how your recruiting firm will measurably benefit with hosted VoIP, contact the Votacall team today. We understand the challenges and opportunities that exist in the dynamic — and sometimes difficult — recruiting space, and will show you how our cost-effective and saleable solutions can be part of your successful, growth-oriented future. Your consultation with us is free.
For more information on how to choose the right partner for your hosted VoIP phone system, download our FREE eBook: