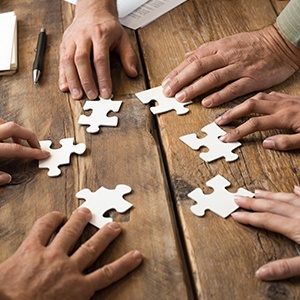 While the cost savings of hosted VoIP are compelling – and for many businesses outright convincing -- there are still other advantages that make it categorically superior to traditional phone systems, including boosting both employee collaboration and productivity.
Below, we highlight the 6 key ways that hosted VoIP unleashes these benefits – not months or even weeks in the future, but immediately after making the switch and going live:
Any Device Access
Instead of restricting employees to using their office phones, hosted VoIP enables them to use any phone – including their smartphone – to receive and make calls, and access all system features.
Web & Video Conferencing
With hosted VoIP, employees can launch web or video conferences anytime and from anywhere, so they can connect with colleagues, customers, or any other party. At the same time, this connectivity reduces the need for staff travel, which is efficient, convenient and cost-saving.
Extensions
Hosted VoIP allows businesses to assign extensions to employees, so they can reach each other easier and quicker. This is particularly beneficial when employees are transferring prospect/customer calls.
Voicemail-to-Email and Voicemail-to-Text
Employees who are in meetings or on-the-go can miss important voicemails. But with hosted VoIP, then can have all voicemails converted into audio files and sent via email, or transmitted as text messages.
One-Number Service
Instead of giving customers and other contacts multiple phone numbers, hosted VoIP allows employees to share a single number that will route all calls to their phone or device. What's more, employees who make outgoing calls will have their business number show up on caller ID.
Automatic Call Routing
With hosted VoIP, businesses with multiple locations can have incoming customer calls automatically routed to an available agent – regardless of where they're geographically located in the network (including from their home office). This measurably improves both productivity and customer service, as callers spend little or no time waiting on hold.
The Bottom Line
Ultimately, the collaboration and productivity advantages of hosted VoIP are so impressive, that they alone would make switching from a traditional phone system a no-brainer. But when you factor in the enormous cost savings – which can be 50 percent or more per year – the question isn't "why should we switch", but rather "when can we switch?"
Learn More
To learn more, contact Votacall today. We'll help you build a customized, cost-saving hosted VoIP plan that fits your needs and goals, and helps you boost employee collaboration and productivity from day one!
Interested in learning more about VoIP? In our latest eBook, we help you learn the truth about hosted VoIP phone systems by debunking the six big myths about VoIP. Download it for free by clicking the image below: