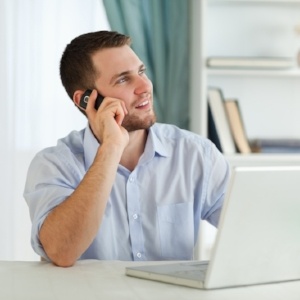 According to a new study by Global Workplace Analytics and job website Flexjobs, the number of remote workers has skyrocketed by more than 115 percent — or about 1.8 million — since 2005. And as technology gets better, the net gets faster, and business overhead costs climb higher, the number of remote workers will only increase in the years ahead. Indeed, as noted by Forbes: "The world of work has changed from one in which everyone sits in the same building, to one in which many sit remotely but share the same values and culture."
Naturally, many staffing firms want — and some of them need — to plug into this remote worker trend, so they can increase productivity, performance and client services, while they lower costs and ensure profitability. And that's where hosted VoIP enters the picture.
Below, we highlight 5 significant ways that hosted VoIP allows staffing firm employees to work from anywhere:
1. Hosted VoIP Connects All Employees on a Centralized Platform
A hosted VoIP connects all employees on a centralized platform regardless of where they are located, so they can access key system features such as instant messaging, web conferencing, colleague login status (e.g. available, on call, away from desk, etc.), and more. In addition to driving internal communications, it creates a unifying "shared employee experience" that is critical for keeping remote teams cohesive and aligned — even if they are working on other sides of the state, country or even the world.
2. Hosted VoIP Supports Mobile Apps for Anytime, Anywhere Connectivity
Staffing firms that are concerned they need to cover the costs of supplying all of their remote workers — including some that may be located in other countries — with certified VoIP phones can rest easy: because all employees can simply install a free mobile app on their smartphone, and access the hosted VoIP system at any time and from anywhere. What's more, the app enables employees (as well as other authorized system users) to separate their personal line from their company line. For example, when calls are made to clients or candidates, the staffing firm's number appears on caller ID — not the employee's personal smartphone number.
3. Hosted VoIP Drives Internal Communication at No Cost
One of the most important elements of a remote team is that they regularly communicate through email, text, phone and through web conferencing. With a conventional landline phone system, long distance calling costs between employees can be excessive — or even prohibitive for national or international firms. However, with hosted VoIP there are NO costs for user-to-user communication, regardless of where employees are located, where calls originate, or how long they last (note that any cellular or mobile network charges would be extra, but that is not levied by the VoIP Solutions Provider — it is levied by wireless/cell carriers).
4. Hosted VoIP Minimizes or Eliminates Zone Conflicts
Hosted VoIP supports built-in calendaring features, so that employees can instantly see when their colleagues are available — which makes it much easier and faster to schedule meetings and other events with colleagues in other time zones, or who are working on different shifts.
5. Hosted VoIP Supports Call Routing to Reduce Voicemail
Staffing firms know (just as all other businesses know) that callers dislike leaving voicemail; whether they are clients, candidates or internal colleagues. Hosted VoIP supports multiple call routing options and configurations (e.g. hunt groups, ring groups, auto-attendant, etc.) to reduce the likelihood that calls will go to voicemail.
What's more, even when calls do go through to voicemail (which is inevitable on occasion), hosted VoIP features voicemail-to-email, so that employees can pick up messages while on-the-go.
Learn More
To learn more about how hosted VoIP will help your staffing firm's employees work from anywhere —increasing productivity, performance and client service, while reducing cost — contact the Votacall team today. Your consultation with us is free.
For more information on hosted VoIP and the truth behind common myths, download our FREE eBook: