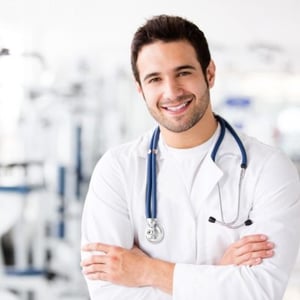 It's easy to understand why healthcare professionals would value a Hosted VoIP system. After all, VoIP technology allows healthcare employees to stay connected from remote locations, collaborate more effectively, and serve their patients better. And while VoIP phones provide benefits to companies across industries, it is important to note that healthcare facilities are subject to the rules and regulations of the Health Insurance Portability and Accountability Act, or HIPAA. For the uninformed, HIPAA was a measure passed in 1996 to protect patients' private medical records. Don't worry though –– it's possible to stay HIPAA compliant and reap the benefits of a Hosted VoIP System at the same time. Here's what you need to know on the subject:
Electronic Data
At its core, HIPAA is meant to protect the privacy of a patient's electronic data. Simple enough, right? In regard to Hosted VoIP tech, this means information gathered from a phone call that is then converted into electronic data falls under HIPAA stipulations. In other words, it doesn't matter how you got a patient's information –– as long as it's stored in an electronic database, it needs to be HIPAA compliant.
HIPAA Compliance Measures
As we covered here, there are a few straightforward ways to stay on the right side of the law in regard to Hosted VoIP and HIPAA. The first is to ensure only authorized personnel have access to classified information. Doing this will go a long way toward keeping your facility HIPAA compliant. Encrypting data, as well as enforcing different levels of access based on the information in question are also two great practices to employ with your system. Plus, you should keep track of all interactions your staff has with patients and enforce policies to protect the privacy of those conversations.
Call Recordings
To reiterate, when information from phone calls are transferred to an electronic device (like a computer) then that information becomes subject to HIPAA compliance. As for the call recordings themselves, different states have different legislation on the books about the legality of call recordings. Most states have a one-party recording policy, but for a more detailed look at recording laws, check out our blog on the matter. Furthermore, the law stipulates that when healthcare professionals call or contact patients, the interaction must be of a medical nature (e.g. discussing test results, checkups, hospital registration info, etc.). This prevents medical personnel from trying to do things like sell products to patients over the phone, for instance.
HIPAA is Not the Enemy
While HIPAA is intended to protect the privacy of patients' health-care records, it's not meant to impede the day-to-day operations of a healthcare facility. Rather, professionals who act scrupulously and responsibly won't find it difficult to adhere to HIPAA regulations. Remember, the law is in place to prevent private information falling into the wrong hands –– not to make doctors' lives more difficult.
Final Thoughts
VoIP is a great asset for any entity that relies on clear, reliable communication channels. And healthcare facilities absolutely fit that bill. If you're ready to give your facility a much-needed boost –– or if you're still unsure about VoIP and HIPAA compliance –– then contact the Votacall team today. We're happy to answer any questions and explain how VoIP works in depth. Plus, to get a comprehensive look at how VoIP systems work, check out our free eBook here: