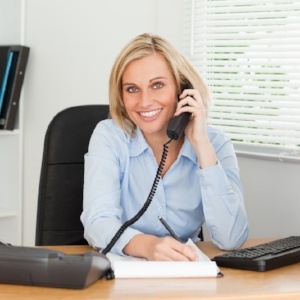 Many small business owners wonder what they need to do to prepare for VoIP phone services. After all, it's natural to assume that upgrading your tech is going to take multiple steps and might be a confusing process. However, that's simply not the case with VoIP phones. So what is needed for VoIP phone service? In truth, you really won't need much more than a steady internet connection to get your VoIP phone system up and running. To put any lingering doubts to bed though, here's everything you'll need to do to ready your office for VoIP phone service.
Your Installation Checklist
Depending on the scope of your plan, your VoIP checklist could look something like this:
VoIP Phone

Electric Outlet

WiFi Modem or Wireless Router

Computer
It's really that simple.
The trickiest part of installing a VoIP phone for your office or workspace is putting together the phone itself –– and to achieve that you can follow the instructions that accompany your order. VoIP installation is purposely easy, and you won't have to spend hours hammering away at a confusing project, nor will you have to shell out ungodly amounts on new hardware or software to complete the process. Instead you can get focused on putting your VoIP system to good use.
Next Steps
Once you've got your VoIP phones and systems set up, you can start taking your efforts to the next level. Synchronizing your VoIP phones to your email, or downloading the VoIP app on your smartphone are great ways to get the most out of your VoIP system. You can also begin to test the advanced metrics, statistics, and features that accompany VoIP software.
Skip the Hassle with a Managed Plan
The best part about signing up for a managed VoIP system is that you yourself won't have to oversee the day-to-day maintenance of your phones. Indeed, whether your business opts for a Hosted VoIP, or a PBX system, you can rest easy and let your provider handle the daily costs and challenges that accompany running a phone system. Plus, you won't have to hire additional employees or tax your current IT staff with any problems that might arise with your VoIP phones. That's because when you sign up for a Hosted VoIP system, you'll also receive round-the-clock IT support at no extra cost to you.
The Bottom Line
What is needed for VoIP phone service? The real answer is a desire to improve your company's connectivity, customer service, and return on investment. So if your company can benefit at all from adding a Hosted VoIP system to your operation, then contact the Votacall team today. We can help you get started with VoIP no matter how bare-bones, or sophisticated your office may be. And for more information on how to identify the right VoIP provider for your business, download our free eBook here: