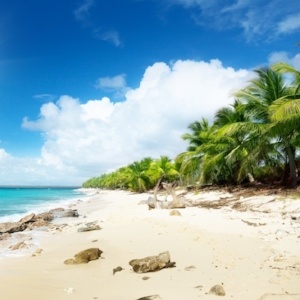 When it comes to VoIP phones and hardware, remote access is the name of the game. As a result, it shouldn't come as a surprise that Hosted VoIP systems have helped connect employees in diverse industries throughout the country. Indeed, any company that deals with phone calls on a regular basis and values customer service, seamless connectivity, and cost-effective phone solutions can use a VoIP system to better their business. And that's why VoIP for the tourism industry makes so much sense. Not convinced yet? No worries. Here are five reasons to love VoIP for your hotel or resort:
Never Miss Another Reservation
There's no faster way to irritate customers and garner bad reviews than to mishandle a guest's reservation. Fortunately, with a Hosted VoIP system, you'll never have to worry about flubbing a reservation. Not only will your hotel or resort receive top-of-the-line IT and unmatched service, but even if you do miss a call that comes in after hours, you'll still be able to access it. With a Hosted VoIP system you can synchronize your email with your business's voicemail –– so no phone call will ever slip through the cracks again.
Unmatched Connectivity
Need to make a call to a another hotel location? Or do you have to get in contact with an employee working remotely? With a regular landline system, you're at the mercy of long-distance fees and questionable service. But with a Hosted VoIP system, you can stay in touch with all of your team members –– no matter where they're located.
Cloud-Based Solutions
In addition to peerless phone service, a Hosted VoIP system with cloud-based solutions enables employees to connect to important files, documents, and numbers from anywhere on the globe. With a VoIP system, your work is never more than a few clicks away. Plus, you can download the VoIP app and connect with everything you need at work on your smartphone.
Save Money
Landlines aren't just a hassle to deal with –– they're also costing your business money. However, when your hotel or resort switches over to a Hosted VoIP model, you'll get amazing service and vital savings at the same time. Quit paying for phone calls between team members and stop racking up those long distance fees –– they add up in the long run!
Total Reliability
When you sign up for a Hosted VoIP phone system, you can rest easy knowing that you'll never have to worry about your phones failing again. How, you may ask? Two reasons: first, VoIP systems are backed by round-the-clock IT support, which comes complimentary with your package. And second, VoIP systems won't go down during power outages like traditional landlines. (Yes, that includes severe weather; in fact, VoIP phones keep working even during a hurricane!) Instead you'll have access to your phones when you need them most.
Make the Switch
If you're trying to run a successful hotel or resort without a Hosted VoIP system, you're facing an uphill struggle. In truth, VoIP for the tourism industry is practically a match made in heaven. So if your business can benefit from any of the above advantages you'll get with a VoIP system –– contact the Votacall team today. We've worked with companies in a myriad of industries and can help your hotel take the next step. And for more information on how to pick the right VoIP provider for your business, download our free eBook here: